Wanting your cars to sport a certain look can be quite heavy for your wallet. However, painting your brake calipers can give your car a funky look and lift off the boringness out of it. But painting calipers can cost you extra money. Instead of spending extra money, you can purchase paint for brake calipers and do it yourself. This way you'll save money and can do what you have wished for.
However, you can't just pick up the first paint bottle you see and slather it onto your brake calipers. Today we will be talking about the top 7 best paint for brake calipers. To find out which product you should get for your brake calipers, keep reading.
Top 7 Best Paint for Brake Calipers 2021
1. Red Automotive Caliper Spray Paint
The Red automotive caliper spray paint is a very great option if you are looking for an affordable product for brake calipers. It comes in a bottle of 12oz which is more than enough to coat all four of your brake calipers multiple times. The finish of the red automotive caliper spray paint is glossy, which does not attract dust particles as much as the matte finish ones do.
Special benefits
Any angle technology which will allow you to paint at your own comfort, at any angle you want.
900F temperature resistance ensures no matter how hot it gets, it will not melt, flake, or chip off.
2. G2 High Temperature Brake Caliper Paint
The G2 high temperature brake caliper paint is considered one of the best paints for brake calipers. With up to 11 different colors and a heat resistance of 980F, the G2 brake caliper paint is one of the best brush-on on the market. It will stay on to your calipers for years. Unlike aerosol sprays, this doesn't possess the risk of chipping off later.
Special benefits
You don't need to spend extra money on buying a painting kit because the G2 high temperature brake caliper paint comes with one.
Unless you want to remove it on your own, it's not leaving!
3. VHT Real Red Brake Caliper Paint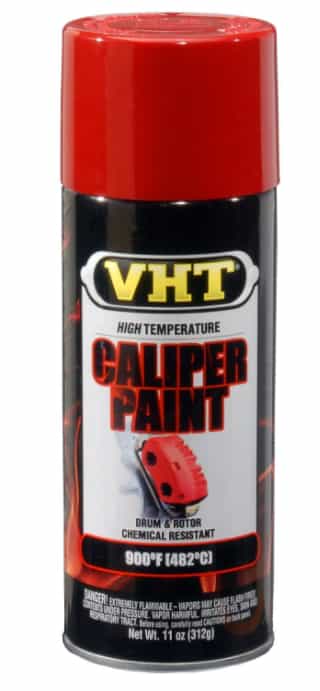 The VHT real red brake caliper paint belongs to the company VHT, which produces higher temperature-friendly aerosol sprays at a more reasonable and affordable price point. While other sprays can take quite some time to dry, this dries to touch within 30 minutes and takes 24 hours to completely cure. Wide coverage from the nozzle, a light spray will give you medium to full coverage. It is designed to withstand very high heat, up to 900F.
Special benefits
With a very glossy finishing, this will make sure your calipers look fabulous and dimensional to bare eyes.
Unless you're scraping the coating off, the VHT real red brake caliper paint will never come off of your calipers.
4. Dupli-Color Black Brake Caliper Aerosol
The Dupli-color black brake caliper aerosol is a great choice if you live in a very cold area, where heat resistance is not much important. But do not let this fool you as it offers up to 500F heat resistance. If you are in a rush or do not like to wait on your brake calipers drying, this is a great choice. The Dupli-color black brake caliper paint dries to touch within half an hour and is completely safe to touch within an hour. The best part of this product is that you can skip the "sanding your calipers before painting" part if you want to. It will stick to your calipers no matter what.
Special benefits
Spray painting with the Dupli-color aerosol is super fun, super-fast, and mess-free due to its conical nozzle.
You no longer have to stress between choosing aerosols or brush on as this formula comes in both. Choose according to your preference and paint away!
5. VHT SingleEngine Enamel Grabber Green
We have already talked about a product from the brand VHT, but their products are so good, that we had to include another one in our list. Just like the other one, the VHT single ESP154000 engine enamel grabber, the last aerosol spray on our list, is a very affordable brake caliper coating. Even though this is marketed as an engine enamel grabber, this is used as a brake caliper coating quite a lot. It offers heat resistance up to 500F, which is quite a lot.
Special benefits
The VHT single engine enamel grabber comes with an affordable price tag along with superb performance!
Glossy, and shiny finish that doesn't make your calipers look flat, and prevents dust particles from sticking.
6. POR-15 42606 Black Caliper Paint
Special benefits
Paired with the coverage, one can have so much product that you won't need a second one for a touchup either.
Regular cleaning with a brake caliper cleaner will not ruin the coating at all.
7. Eastwood Heat Resistant Red Caliper Paint
The Eastwood heat-resistant red caliper paint is the last product on our list, and this is a brush-on. It offers a heat resistance of 650F which also includes UV ray protection. Because of the coverage, you won't need a lot of products to coat your calipers. One can last you quite a long time.
Special benefits
The Eastwood heat-resistant red caliper paint is super quick to use and dry.
Very strong hold on the calipers, so unless you try to remove it, it is not coming off of its own.
Frequently Asked Questions
1. How Do You Prepare a Brake Caliper for Painting?
Ans: Before you slather your brake calipers with paint, there are some things you should do. In order to prep your brake calipers for painting, you should;
Use a brake cleaner to clean the dust off of the calipers as much as you can. Then to clean off the grease, use a degreaser with a soft metal wire brush.
Use sandpaper to sand the parts you want to paint. Degrease the areas you have sanded after you are done.
Cover all the areas you do not want to get the paint on and start painting!
2. Can I spray paint my brake calipers?
Ans: Yes, you can spray paint your brake calipers. In fact, spray painting is considered one of the easiest ways to paint your brake calipers at home. Aerosol cans are easier to use, as it has wider coverage.
By using proper precautions, you'll be able to finish the job by yourself faster than using a brush-on. However, don't use regular spray paint on your brake calipers. There is paint for brake calipers that are designed to have a higher temperature resistance, which makes these a perfect fit.
3. Is painting brake calipers bad?
Ans: Painting your brake calipers is not bad. In fact, many people do it. It is a very commonly practiced way to change the boring look of your automobiles. However, not using the right product will ruin your brake calipers.
For example, if you use regular spray paint instead of using brake caliper paint, the high heat from the wheels will melt it off. The latter is designed to withstand high heat from within.
If you do not use the right method and preparation for the job, you might ruin your calipers as well. Getting paint on caliper discs will also ruin the performance, so it is important that you follow the right method.
conclusion
All the above-mentioned products are considered the best paint for brake calipers in the market. With the right preparation, and product of your choice from this list, you'll be able to paint your brake calipers at home and change their boring look in minutes!
Painting your brake calipers isn't a hard task, but it's important that you take enough safety precautions while doing so at home. If you have already painted brake calipers, don't forget to scrape that coat before applying a new color. If you're painting your brake calipers for the first time, don't forget to clean them properly by using brake cleaners and degreasers.