Painting your stuff sounds fun until you realize just buying a can of paint and some brushes won't be enough. The worst part?
You realize this right when you start painting. As someone who has been painting their rooms for years, I can assure you that, you need more than just a few paintbrushes to make your painting experience smoother and easier.
In today's article, we'll be talking about all the painting tools and equipment that will make your life easier and DIY painting jobs easier.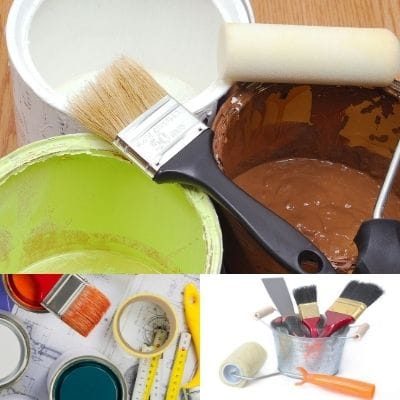 Here are our top 30 Best Painting Tools and Equipment List
1. Painters tape
You'll be needing painter's tape very frequently to make your lines cleaner and sharper. Regular tape won't work as painter's tape is designed and equipped with paint line protection which doesn't let the paint seep inside. Blue Painter's tape is one of the most used painter's tapes. I've been using ScotchBlue for more than a few years now. It's great and I always keep multiple in my stock.
2. Painter's Tape dispenser
Using tape to cover areas where you don't want paint sounds like an easy task until it isn't. One of the issues I faced with taping by hand is my hands started cramping before I could even move onto the painting part. This is why using a tape dispenser is a great choice. My favorite tape dispenser is a tape dispenser from ScotchBlue. It saves time and reduces taping hassle a lot.
3. Metal Paint Tray
Metal Paint Trays are used to carry paint from one place to another. Metal paint trays with hooking legs are very useful as you can set these up on your ladder. I've been using this metal paint tray for quite a long time, and the reason I like it so much is that it's made of rust-resistant steel.
4. Tray Liner
Although tray liners are something people don't use that much, I like to use trayliners on top of my metal paint tray. Tray liners save the cleaning part, also you can dump all the leftover paint back into the can easily. If you don't want to spend on tray liners, you can use plastic bags instead.
5. Ladder and step ladder
This is one of the most useful pieces of equipment for DIY painting chores, but nobody seems to talk about it. Not only do ladders help you to reach the top, but also help you to color those tight and harder to reach areas. I use both ladder and a step ladder. Ladders help me to reach the top of the walls, while step ladders help and support my back while coloring the ceiling.
6. Paint mixer
If you don't mix and stir your paint before you start painting, you're doing it wrong! Mixing and stirring ensure that the oils are mixed in properly and your paint is in the right consistency. I use a paint mixer drill attachment, but there are separate paint mixers available as well.
7. Edger/ edging tool
Edgers are a must have piece of equipment if you're looking for those perfect crisp inner corners.My favorite edger is the Shur-Line 2006561 paint edger pro, and it comes with two painter's pad refills as well. I've been loving the service it provides lately.
8. Paint scraping tool
Paint scraper tools are very useful. You can scrape off paint from a metal surface, from your walls, etc. This multipurpose scraping tool is my absolute favorite. It offers multiple blades and styles.
9. Extension Pole
There's always that one corner of the ceiling that you can't reach. To reach that point, you end up hurting your neck. As an amateur DIY painter, I did the same as well. But extension poles saved my neck and my time. Most paint rollers come with holes where extension poles can be screwed in.
10. Paint Can Opener
One of the least talked about equipment for DIY painting. But this is a necessity. My paint can opener is a very handy tool that's always needed at the start of any painting chores. This small tool saves me a ton of time and a lot of hard work.
11. Tape measure
A tape measure is one of the most important that you'll need. Many people would prefer using their school scale but beware those are far from accurate. There are many brands on Amazon but I prefer Komelon. This brand has several different length products that you can choose from. I recommend getting a 25 feet long tape measure.
12. Drop cloth or Floor cover
Painting's a nasty business. You don't want paint droplets on your floor, right? I don't want either. This is why get yourself a nice piece of clothing that you can discard later. Another option would be buying a drop cloth specifically made for this purpose. This is how I save my floor from paint marks.
13. Sandpaper
Who doesn't remember the famous sandpaper jokes? Sandpapers are an integral part of the DIY painting job. You need to use sandpaper on a wall to smooth out the rough surface and only then you can have a smooth base to paint over. I have used this sandpaper and I can vouch this is one of the best in the market.
14. Pouring Spout
You need a pouring spout for pouring out the paint without making a mess. Pouring spout comes with cute little measurements written which will allow you to create a perfect combination. You can buy the same model that I use right now. Shurline's pouring spouts are made with high-quality plastics and they can hold up to 4 liters of liquid.
15. Paint bucket
This is a no-brainer. You need a good paint bucket to pour the paint in. But many people opt for a spare that they think has no use. You can use these HANDY paint buckets. Firstly, there are no chances of unwanted reactions with the bucket. Secondly, you can use and reuse them for an eternity without degrading the quality.
16. Paint Roller
Buy a good paintbrush. It's important to invest in a product that'll do the main thing. In my early days, I had used some over-the-counter low-quality paint rollers and it has ruined my progress on multiple fronts. Your handle can break, your fabric may stop absorbing paint or the sizes may not meet your expectations. There are many ways a paint roller could hurt your feelings. Therefore, always buy a good one.
17. Putty Knife
You've to use wall putty before the last coating. Sometimes putty is also used for filling the holes in your walls. Putty Knife comes in extremely handy in such a situation. It's white cement so to ensure maximum efficiency I always use a good quality putty knife.
18. Paint Sprayer
Spray painting is suitable for large areas where you don't need accuracy. Paint sprayers come in all shapes and sizes. But I'd recommend this paint sprayer for its controlled paint flow and faster clean-ups. Spray painting equipment may not always be in use but it's better to have them in stock.
19. Wall Stencils
Wall stencils allow you to have very beautiful designs in your house without investing a fortune in wallpapers. I've been using wall stencils for a while and I've to say nothing is easier and satisfying in life than to see those holes filled with new paint. Wall Stencils are notoriously reasonable in price too.
20. Flat Brush
Flat brushes are a lifesaver sometimes. Yes, you might have a paint roller and paint sprayers but there are still some ways you might need a flat brush too. Especially the thin brushes are used to highlight, subtle hints and designs. I use this paintbrush collection. They've an excellent collection of paintbrushes.
21. Angled Paintbrush
It's sometimes very hard to reach some areas of your house, Instead of spilling or wasting paint over it, use an angled paintbrush. Buy an entire set and use whatever size you see fit. I've regularly used these brushes for precise coatings. Angled brushes also come in handy when brushing storerooms or the library.
22. Sponge
You need a good number of sponges while painting. I always keep some in stock. Sponges serve a myriad of purposes. However, you need to go for the highest-grade sponge in the market. I buy them in a bulk and store them within an air-tight container.
23. Stack Rack
You need a stack rack, believe me. Painting at times can feel so disorganized. I use this stack rack currently. You can use a stack rack when you have many cabinet doors or trims but not enough space. Attach them and paint one side and flip them to paint the other. Stack racks are used not only by DIYers but also by contractors.
24. Paint Remover
Mistakes can happen in the world of painting. Nothing great has ever been achieved without them. But unlike many other irreversible occasions, you can reverse the misfortune by using a good paint remover. I use them all the time. Paint removers are also used for the entire structure but it depends upon the person.
25. Heat Gun
Heat guns are an important addition to your at-home painting kit. Heat guns allow you to remove the paint easily. It has a wide variety of applications even when you are not painting. I'm currently using the Mlife Mini Heat gun regularly and I find the brand extremely easy to use.
26. Drywall Tape Knife
Get a good tape knife as an integral part of your DIY kit. Firstly tape knife makes accurate cuts and makes the job easier if you are working alone. Secondly, a taping knife can also be used as a putty knife when the latter is unavailable. Tape knives can be used for removing old coating as well.
27. Spray Paint Nozzle
Find a reusable spray paint nozzle for better painting. Many spray paints come with a stock nozzle but they're not famous for being accurate or consistent. That's why serious painters like myself prefer to control the paint flow. Trigger-type paint nozzles are better for navigating easily.
28. Paintbrush cover
Leaving your paintbrush without an appropriate cover is a rookie mistake. The bristles deteriorate over time when you leave them out in the open. Covering it properly every time after you use it will prolong your paint brush's life. You can the cover I use. Buy Likwid Concepts from Amazon.
29. Paint Primer
A paint primer is typically used to seal the surface and improve the adhesion of the paint. Contractors typically use one coat of paint primer and two coats of paints to ensure maximum quality, protection, and aesthetics. I use KILZ Premium as a primer most of the time. I've used other primers as well but this one is my new favorite.
30. Five Gallon Bucket
You'll need lots of buckets while painting. You need them for primers, putty, and the paint itself. Five-gallon buckets are good for several reasons. Five gallons is a lot of paint for one. That means there is room for mixing and matching as much as you want. Also, the same five-gallon bucket can be used for carrying water or a carrier for other painting tools.
As someone who's been painting for years, I can assure you all the tools and equipment listed off here will make the perfect DIY painting kit for you. Painting is not just another chore. When done right, it can be the most amazing experience ever. So, don't be afraid to pick up the brush, and get started!