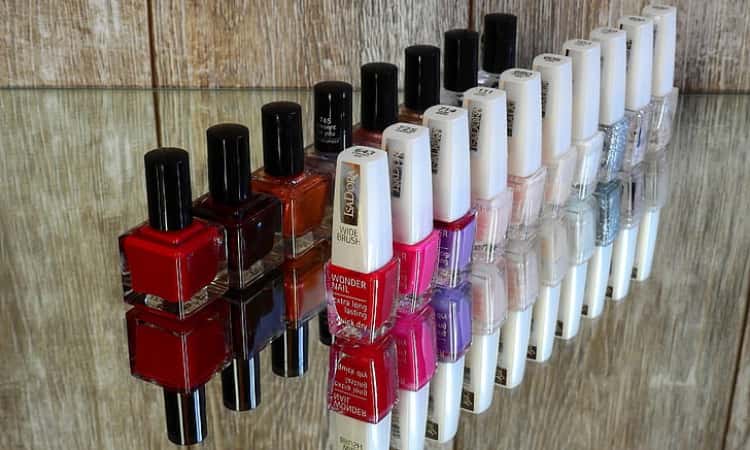 It's really common for artists to use nail polish as paint. You can create some incredible DIY art and crafts with nail polish. If you've some expired nail polish bottles and you are going to throw them away, take a pause here.
Nailpolish has various creative uses. You can paint with them on paper, glass, plastic, fabric, wood, and even over the canvas. Nail Polish crafting can amaze you with its spectacular shine and appearance.
You might have dozens of questions regarding nail polish uses as paint. No worries, we got your back.
Give a quick check over here before you start painting. It's definitely going to save you a lot of time and proper guidelines.
Can you use nail polish as paint?
Yes, you can use nail polish as paint.
Nail polish is lacquer, and it has a balanced mixture of organic polymer. Although it is not similar to the other components of regular paints, they all fall in the same category.
Nail polish is more than nail art equipment. You can use it as paint over different surfaces in different methods. Here you'll get durability, reliability and maximum pigmentation. You can even use nail polish to touch up your craft projects, design with glittery areas, etc.
If you've got a lot of extra nail polish bottles in your house, try some crafting and creating new projects with those.
Is nail polish enamel paint?
Nail polish is only a nail polish. Enamel paint is a type of nail polish. Enamel paint is known as a nail varnish as well.
Nail Polish and enamel paint are the two different names of the same genre of product. They are used for decorating and protecting human nails.
There are some fundamental differences between nail polish and enamel paint.
Although nail polish is a type of lacquer, the enamel is known as a specific color nail polish.
While applying nail polish, you've to apply base, paint, and topcoat. In comparison, enamel paint is good enough to decorate the nails.
Enamel paints are generally used for hiding nail scars and imperfections. On the contrary, nail polish is a kind of nail art element.
Enamel paint is sometimes separately used as a base coat/ top coat of the nail polish. They can conceal the imperfections over your nail polish too.
Regarding all these differences and facts, you can consider enamel paint as a type of nail polish.
Painting with nail polish on canvas:
Nail polish art on canvas is quite popular among artists. Not only does this look good but also nail polish does a quick and effective job over the canvas. You don't even need to do any priming or mix any additional products here.
Grab different sizes of brushes and start painting properly over your canvas. Just some regular brush set and cold water are enough to create your canvas painting.
The only problem you can experience is the smell. Nail polish includes a strong chemical smell. However, this will disappear in 2/ 3 days.
You'll get a lot of youtube videos with various tips and tricks to use them over the canvas. Try to follow those and create fun projects.
Painting with nail polish on wood:
Yes, nail polish does a very pigmented painting over wood.
Even the already painted wood that has got scrapes or scratches can be corrected with just nail polish. It might sound crazy. But nail polish is the savior of your expensive and scratched furniture.
Not only this, but also you can create innovative and outstanding designs with nail polish. You can use a stick or brush to design over a wooden surface. Try this over cabinets, drawers, cupboards and other furniture.
You can use a top coat over the design too. This will get better reliability of the design. Make sure the paint is dried correctly before you go for other coats.
Painting with nail polish on the metal:
Designing over the metal surface with nail polish is a pretty good idea. Either it's a DIY project or a professional one, try using nail polish for pigmented appearance.
You can use a brush set or metal washer to paint over the metal surface. The most important thing to remember here is the preparation process. For a better outcome, you've to clean the surface with nail polish remover/ acetone.
Also, allow the surface to dry completely before painting. Once it's dried, you'll find it easier to make any designs. Any metal surface will look good with nail polish painting. However, you should ignore painting key parts that go into the lock.
The best tip is to let it try for at least one night properly.
Painting with nail polish on paper:
Crafting over paper has always been an easy and popular option. Now, you can try using nail polish over the paper.
This will appear more attractive than your experience. You have to mix a tiny amount of water here to make the nail polish texture thinner.
You can use nail polish over both watercolor and colored paper. What procedure you should follow will depend on the paper type.
For detailed procedures and suggestions, you can follow some crafting videos on youtube.
Paint rocks with nail polish:
Designing over rocks is a very traditional crafting idea.
Maybe you've heard about painting rocks with acrylic paint. You can try the same design with nail polish. Yes, it will appear better and save some bucks.
You only have to add some water and make a good mixture. Use some paintbrush/ toothpick, Stick and create creative designs over rocks.
People make ornaments, showpieces etc, with painted rocks.
There are a lot of techniques with nail polish you can try over rocks. It's super simple and looks vibrant. As it doesn't require any harmful chemicals, kids can try this out.
Painting with nail polish on plastic:
Using nail polish on plastic is another exotic but popular crafting idea. You can turn a regular plastic mug/bowel look unique with some crafting.
Nail polish appears attractive over plastic bottles, wraps and other rigid plastic materials with expired nail polish will. You can make painted plastic bags, toys, wraps etc with plastic and nail polish.
You can expect a durable finish and smooth designs with nail polish over plastic. For a better surface, you can use a lacquer-based primer. If you want to secure the paint, try using thinner over the surface.
While painting plastic with nail polish, apply very thin layers. Else, it can appear messy and tough. Give it enough time to dry entirely and you can expect incredible designs.
Paint glasses with nail polish:
You'll find various designs of glass mirrors, glass plates and mugs in the market.
Do you know, it's super easy to create designs over basic glasses? It changes the look instantly and gives a brand new look.
Either you want to do some fun crafting or DIY projects, try using nail polish next time.
If you use a waterproof sealer over the dry paint, its design will get permanent. Using dishwasher-safe mod podge makes it more reliable.
It takes around one day to dry the designs thoroughly. Make sure you're not using too many coats over glasses. It might look messy then.
You can give a quick check here. These are the several common questions people ask while painting glasses with nail polish:
Is nail polish permanent on glass?
Nail Polish on glass are not naturally permanent. You have to add some liquid chemicals/ sealing materials to make this permanent. Experts suggest using liquid/ jelly mountains to make the nail polish permanent over glasses.
Can I paint the glasses frame with nail polish?
Yes, you can use nail polish to paint your glasses frames. It's pretty popular to paint metal frames with nail polish. If you're an expert at designing, try this out. Don't use nail polish over glasses. Just do very careful designs over metal/ plastic glass frames.
Bike touch up paint nail polish:
If your bike surface has got any scratches and you don't want to spend a lot of money on repainting, try using nail polish here.
It's really usual to get scratches and tears over bikes. And you can save your money and still make the bike look like a new one with a nail polish touch-up. Using nail polish for bike touch up is a cheap and fantastic alternative.
You need to find the matching color and apply it to the area you want to paint. Here you can use thin painting brushes to make the process easier.
What does nail polish do due to acrylic paint?
Acrylic paint is used worldwide for creating heavy and innovative nail arts. There are some designs that might be hard to make with nail polish. Those designs can be created easily with nail polish.
However, you can still use nail polish over the acrylic paint arts. Using watercolor nail polish will give your acrylic crafts a better and shinier appearance. It can protect those designs as well. Acrylic paints will give a better appearance, vibrant colors and more excellent designs.
And using nail polish over the perfectly dried procedures can make it more reliable.
Conclusion
Using nail polish as the paint is not a new thing. Not every surface and every design will appear good with nail polish.
People often carry questions about where they should use nail polish and where they should not.
Although it is a kind of paint and has vibrant color options, these are absolutely different from regular paints. You better get a good idea about nail polish uses over various surfaces. It will appear better and stay for longer.